Whole Home Backup Generators
Installation, Repair and Maintenance on Whole Home Generators Near Eau Claire & Hudson, WI
We may not get tornadoes and blizzards every day here in West Central WI, but they do happen. At Hurlburt Heating, AC & Plumbing, we understand the importance of having a reliable source of power during strong storms and snowfalls. That's why we offer whole home generator services to ensure that you and your family never have to worry about losing power during an emergency again. With a whole home generator, your power automatically kicks on - providing you peace of mind and comfort all year long.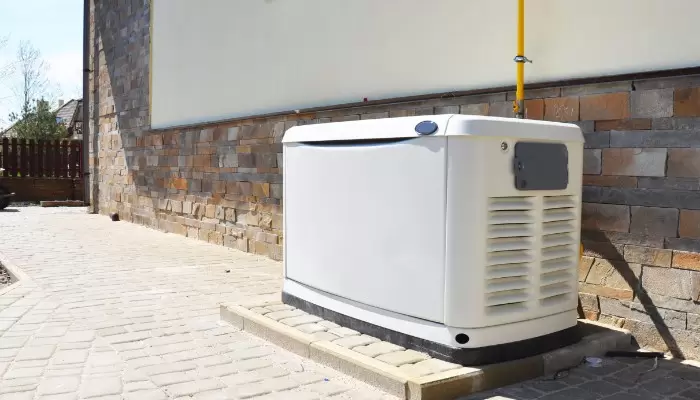 Does a whole house generator increase the value of your home in WI?
Yes, a whole-house generator can increase the value of your home. Having a reliable backup power source is considered a valuable feature by many homebuyers, especially in areas prone to power outages or natural disasters. A whole-house generator provides peace of mind and convenience during emergencies, making the property more attractive. However, the extent of the value increase may vary based on the generator's size, quality, and overall appeal to potential buyers. Consult with a real estate professional to assess the impact on your specific property's value.
Are home generators tax deductible?
Home generators used for personal purposes are generally not tax-deductible. However, there might be certain circumstances where a home generator could be considered a medical expense if it's prescribed by a doctor for medical reasons. In such cases, a portion of the cost might be deductible as a medical expense on your federal income tax return if it exceeds a certain percentage of your adjusted gross income. Always consult with a tax professional or refer to the latest IRS guidelines to determine any potential deductions related to home generators.
Why You Need a Whole Home Generator
Strong storms, tornadoes, ice storms and snowfalls can knock out power for days or even weeks. When that happens, having a whole home generator can be a lifesaver. Not only will it keep your lights on, but it will also keep your refrigerator and freezer running to prevent spoilage of food. It's also crucial for those who rely on medical equipment that requires electricity.
If you work from home, a power outage can mean lost productivity and income. With a whole home generator, you can continue working and won't lose any valuable work time during an emergency.
Finally, a whole home generator can mean the world to your comfort if the power is out. Summer storms that knock out power leave a hot, muggy house, while snowstorms that take out power can leave you cold and frigid. With a standby generator, your house remains comfortable and livable for you and your family. 
Generator Installation Services
Our team of expert technicians will provide a seamless installation process for your whole home generator. We'll start with a consultation to assess your needs and determine the best generator for your home. Once we've agreed on the right unit for you, we'll schedule an installation appointment that works with your schedule.
During the installation process, we'll work diligently to ensure that your generator is placed in the optimal location and that all necessary wiring and switchgear are installed to make sure your generator is up and running smoothly. After installation, we'll test the system to make sure everything is working correctly and answer any questions you may have about operating your new generator.
We also offer convenient financing options for our clients that include low monthly payments on your new generator. 
Generator Repair
Even the most reliable generators can experience issues from time to time. When that happens, our team of experienced technicians will be there to provide fast and efficient repair services. We stock a wide variety of replacement parts to ensure that we can get your generator back up and running as quickly as possible.
When you call us for repair services, we'll start by diagnosing the issue and providing you with an upfront quote for the repairs. If you agree to the quote, we'll get to work immediately to fix the issue and get your generator back up and running.
Generator Maintenance
Regular maintenance is crucial to keep your generator running efficiently and reliably. At Hurlburt, we offer comprehensive maintenance services to ensure that your generator is always ready to provide backup power when you need it most.
Our maintenance services include regular inspections, oil changes, filter replacements, and electrical testing to ensure that your generator is running optimally. By scheduling routine maintenance with us, you can rest assured that your generator will be ready to provide backup power during any emergency.
Get Started On A New Home Generator
At Hurlburt, we are happy to provide reliable and efficient whole home generator services to so that you and your family are never without power during an emergency. From installation to repair and maintenance, our team of experts will ensure that your generator is running optimally and ready to provide backup power at a moment's notice. Contact us today to schedule your consultation and take the first step in securing your home's power supply.