Wood Boilers
Wood Furnace Repair, Installation & Maintenance
You have probably heard of traditional boilers, but you may not be aware of wood boilers. Wood boilers use a similar type of technology that boilers do, but use wood as their fuel source instead of fossils fuels. If you live in an area with accessible wood or you regularly cut your own wood, getting a central boiler is a great investment since you can save money on your monthly heating bill. To find out more about getting a wood boiler installed for your home, give us a call at (715) 283-4422 today!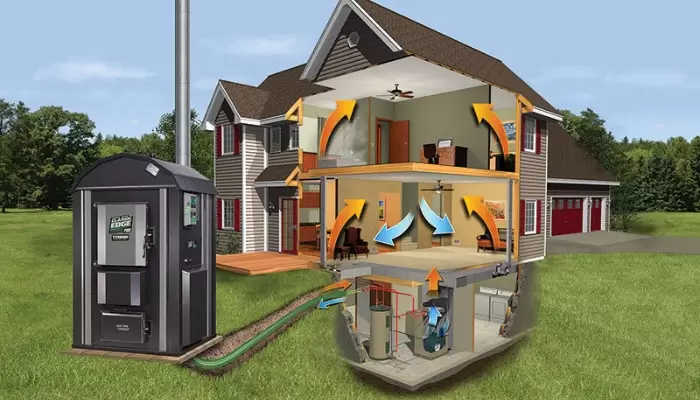 Do you want to save money on your heating bill and potentially eliminate your heating bill altogether? Consider getting a wood boiler for your home to start saving today.
How Does a Wood Boiler Work?
A wood boiler will generally be placed outside of your home, around 30 to 200 feet away (500 feet at most). Wood boilers are compatible with any pre-existing heating systems. It heats water that is circulated into your home by insulated piping. Since wood boilers rely on wood as their fuel source, you will need to occasionally replace the wood inside of your wood boiler. When installed with an additional water-to-water heat exchanger, a wood boiler can also produce hot water for your home and replace your water heater.
Pros and Cons of Wood Boilers
There are a variety of reasons why getting a wood boiler may be the correct choice for your Wisconsin home. To better determine if a central boiler is the best heating system for your home, you can consider the following pros and cons:
Pros:
Lower heating costs.
Lower hot water costs.
You can heat multiple locations.
Lower emissions.
Cons:
Higher initial cost.
Regular loading of wood.
If you regularly cut your own firewood, keeping a central boiler fueled is fairly simple and convenient. Depending on your wood boiler and its capacity, you will generally need to replace the wood once every 10 hours or 3-4 days.
Hurlburt Installs Wood Boilers
We know that the winter months can be long and cold in Wisconsin, which is why we provide a variety of heating system options for keeping your home warm. A central wood boiler is a great heating system to keep your home warm and cut down on monthly heating costs, potentially eliminating heating costs altogether. You can also have your wood boiler set up to provide hot water for your home, reducing the cost for hot water. To learn more about getting a wood boiler installed, contact Hurlburt Heating & Cooling today!