Sump Pump Systems
As the snow in Western Wisconsin melts we see groundwater levels rise and for some of us, this can mean disaster. In the Eau Claire area, we have many spots, even in town, where basement flooding has been an issue in the past for those without a sump pump system. But this potential problem isn't limited to any one area. We routinely replace sump pumps in the Hudson and River Falls area as well. We're very fortunate to live in such a beautiful area with abundant water sources, but mother nature can really bite at times. The installation of a sump pump has become more prevalent in the last 30 years during the construction of new homes, however many older homes were built without.
Sump Pump Repair
We get calls regularly asking, who repairs sump pumps and the answer is, we do. However, beyond replacing float switches there really isn't much to repair on them. If the pump is getting close to or over 10 years old, it generally makes more sense to replace it. There becomes a point when a $200- $300 repair just doesn't make good financial sense.
Replacing a Sump Pump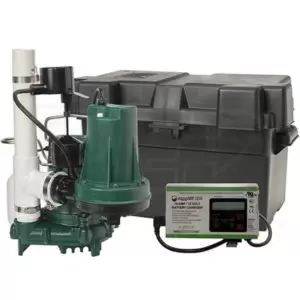 Whether your home had a system installed when it was built or a pit was added after the fact, Hurlburt experts can generally replace the pump in a couple of hours or so. There are some exceptions to this, some systems are much more complex and utilize multiple pumps as a backup just in case one of them were to fail.
For the last several years we have been recommending a battery backup sump pump system that actually has 2 pumps. The primary pump is a standard unit and runs on household voltage, the backup pump runs on 12 volts and it's powered by a battery. If the home were to lose power during a time where the sump pit needs to be purged, the battery-powered unit would run and save the home from a disastrous flood. This is the most popular option.
How much does it cost to replace a sump pump? We're asked this question all the time, of course. There are many options and variables that range in price between $600 to $1500 or more for a high quality system with battery backup and automatic charger.
For fast expert sump pump service call Hurlburt Heating & Plumbing. Our courteous customer service folks are available 24 hours a day to take your call at 715-283-4422 or you can book conveniently online from our scheduling page.